Spokeo
Most Affordable People Search
---
PeopleFinders

Fastest People Search Engine
---
BeenVerified
Easiest to Use People Search
---
What is a People Search Service?
A people search service is an online platform or search utility designed to help users find information about individuals. These services compile data from various public records, white pages listings, social media profiles, and other public sources to create comprehensive profiles. These services have become more popular as social interactions become more digital, increasing the need for identity verification.
The information provided by these services is generally derived from data that is legally considered public, meaning it can be accessed by anyone without infringing on privacy rights, although the consolidation of such data in one place can sometimes raise privacy concerns.
List of the Best People Search Services
Spokeo – Most Affordable People Search
PeopleFinders – Fastest People Search Engine
BeenVerified – Easiest to Use People Search
Spokeo
Spokeo is often considered one of the best people search services due to its comprehensive data aggregation and user-friendly interface. The platform gathers information from public records, social media accounts, marketing databases, and more, presenting it in an organized manner that's easy for users to navigate.
One of the distinguishing features of Spokeo is its social media search capability. Users can find a person's various social media profiles across different platforms, which can be particularly useful for getting a broader understanding of the person's online presence.
The service also offers a reverse phone lookup feature. This enables users to enter a phone number and receive information about the owner, including their name, address, and potentially other public records. This can be especially handy for identifying unknown callers or verifying the identity of someone who contacted you.
Another aspect that makes Spokeo stand out is the historical record information it provides. Users can access not only current data but also past records, which can be crucial for genealogy research or when trying to track someone's previous addresses or affiliations.
Spokeo's email search functionality is another notable feature, allowing users to enter an email address and receive information about the owner, including their name, other contact information, and public social media profiles. This can be particularly useful for verifying the identity of someone you've only interacted with online.
Furthermore, Spokeo is praised for its customer service and commitment to user privacy, providing clear instructions on how individuals can opt out of having their information listed on the site. It's also known for having a transparent privacy policy and for making efforts to secure the data it handles.
The combination of these features, along with the ease of use and clarity of the reports generated, is why many consider Spokeo to be among the top-tier people search services.
Search Anyone for Free with Spokeo
Search and Verify Just About Anyone
PeopleFinders
PeopleFinders is often lauded as one of the best people search services for several reasons, including its extensive database and the variety of features it offers. The service is known for providing detailed reports that may include information like current and past addresses, phone numbers, relatives, and even associates. This depth of information is particularly useful for those looking to reconnect with old friends or family members.
One of the standout features of PeopleFinders is its criminal record and background check capabilities. Users seeking to learn more about someone's past can obtain records of criminal activities, which can be essential for personal safety or peace of mind. The background checks also incorporate data like marriage and divorce records, which can give a more complete picture of an individual's history.
PeopleFinders also provides a reverse phone lookup service. With just a phone number, users can potentially find out who it belongs to and access associated public records. This is often used to identify unknown callers or verify someone's contact information.
Another useful feature is their property records search. People looking to buy a new home can use this service to find out who the previous owners were, assess the property's value over time, and examine the neighborhood's demographics. Such information can be invaluable during the home buying process or for research into local real estate trends.
Additionally, the service is known for its user-friendly interface and ease of navigation. PeopleFinders makes it simple for users to search for the information they need without having to wade through complex menus or confusing instructions.
PeopleFinders also emphasizes user privacy, providing a straightforward process for people to opt out of having their information included in the database, which is an important consideration for many users concerned with online privacy.
These features, combined with the accuracy and comprehensiveness of the information provided, contribute to PeopleFinders' reputation as a top choice for those needing to conduct people searches for personal, non-FCRA purposes.
Try a PeopleFinders Search for Free
Search for free and see what you think.
BeenVerified
BeenVerified stands out in the crowded field of people search services for a variety of reasons. It merges ease of use with a breadth of search capabilities that can appeal to users from casual searchers to more serious investigators looking for detailed background information.
A key feature that makes BeenVerified a go-to option is its comprehensive approach to data. The service pulls from a wide array of data sources, including public records, court records, social media profiles, and more. This means that users can potentially access a rich tapestry of information about an individual, from the most basic contact information to more detailed public records.
One of the services BeenVerified offers is thorough background checks. This feature goes beyond simple public records and aggregates data from various sources to provide a well-rounded profile. This can include criminal records, property ownership, professional licenses, and more, which is particularly useful for those looking to vet individuals for personal or business reasons.
BeenVerified also provides specialized searches like reverse phone lookups and reverse email lookups. This capability is especially valuable for identifying unknown contacts or for verifying the legitimacy of contacts that might otherwise seem suspect. With just a phone number or email address, users can uncover names, associated addresses, and possibly even social media profiles.
Vehicle search is another unique feature offered by BeenVerified. Users can input a VIN or license plate number to receive information about a vehicle's history, which can be crucial for those considering purchasing a used car or looking to track the history of a vehicle for personal or legal reasons.
Furthermore, the service is known for its user-friendly interface, which is available on both the web and mobile devices. The mobile apps in particular make it convenient for users to conduct searches on the go, providing access to the same extensive data available on the desktop site.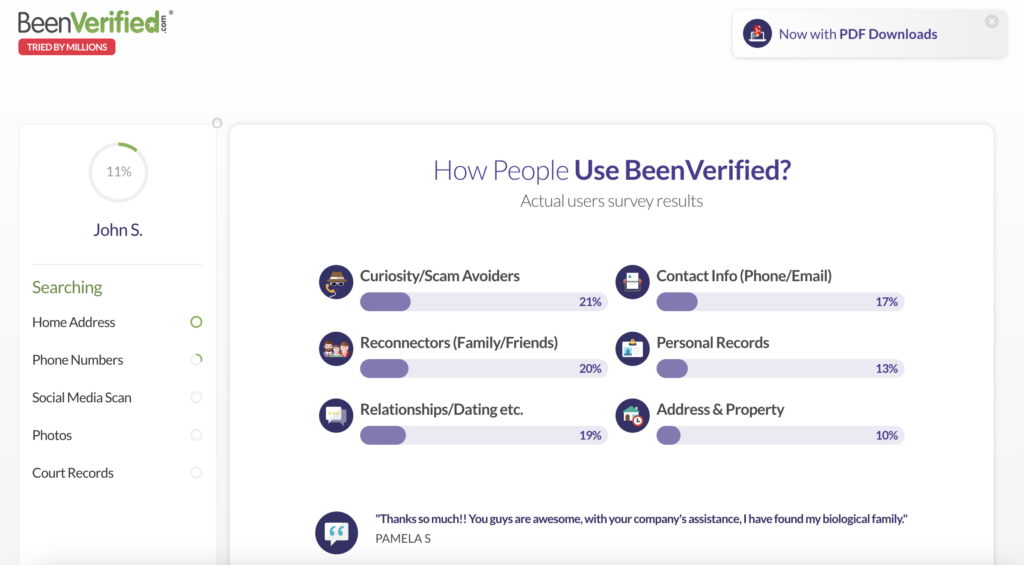 BeenVerified's commitment to customer support and privacy also contributes to its standing. The company offers clear guidance on how to remove one's information from the site and takes steps to protect user data.
In essence, BeenVerified's versatility, the detail of its reports, and the convenience of use are what many users cite as reasons for considering it one of the best people search services available. These features, coupled with the platform's attentiveness to user feedback and privacy concerns, contribute to its popularity and reputation in the field. However, it's always essential to review the latest user experiences and feedback, as service quality can evolve over time.
Additional Top People Search Services
Whitepages – Offers basic contact information and has premium services for background checks.
Intelius – Offers detailed background checks including criminal records, reverse phone lookup, and more.
Instant Checkmate – Focuses on detailed criminal record checks alongside other public records.
TruthFinder – Gives access to public records and claims to provide accurate background information.
Pipl – Known for its deep web searches that can find hard-to-locate information.
PeekYou – Uses social media and web content to gather information about individuals.
ZabaSearch – Offers free searches for basic contact information and more detailed services for a fee.
People Search Services vs Background Check Services
People search services can be used for various purposes, such as reconnecting with long-lost friends or family members, conducting background checks on potential dates, researching individuals for professional reasons, or simply satisfying curiosity about people one meets or knows.
However, it's important to note that there are legal restrictions on how the information obtained from a people search service can be used. For instance, the Fair Credit Reporting Act (FCRA) in the United States dictates that information obtained from these services cannot be used for certain purposes, such as making decisions about employment, tenant screening, or credit and insurance eligibility, unless the service is a Consumer Reporting Agency (CRA) and complies with the FCRA's requirements.
What are People Search Services Used For?
People search services can be utilized for a variety of purposes, as long as these uses comply with legal regulations like the Fair Credit Reporting Act (FCRA) in the United States, which limits the use of personal information for certain purposes such as hiring, tenant screening, or determining creditworthiness. Here are some common use cases for people search services:
Reconnecting with Lost Contacts: Finding old friends, classmates, or distant family members whom you've lost touch with over the years.
Genealogy Research: Building a family tree or researching family history and lineage by locating relatives and ancestral records.
Identity Verification: Verifying the identity of individuals met online, such as on dating sites or social media, for personal safety.
Locating Witnesses or Heirs: For legal professionals, these services can help track down witnesses to events or heirs in estate settlements.
Debt Collection: Used by debt collectors or financial institutions to locate individuals who have outstanding debts.
Background Checks for Personal Reasons: Checking the background of personal relationships, like a new roommate, babysitter, or neighbor (not for employment or tenant screening, which requires a FCRA compliant check).
Checking Own Information: Individuals might use these services to see what information about them is publicly accessible and correct any inaccuracies.
Researching Sellers or Buyers in Online Transactions: Before engaging in significant transactions, one might want to know more about the person they're dealing with, especially in cases of high-value items or collectibles.
Locating Individuals for Civil Proceedings: Attorneys or individuals may use these services to find people when they need to serve legal documents.
Finding Contact Information: When the contact information for an individual is needed quickly, these services can provide addresses, phone numbers, and email addresses.
Due Diligence Investigations: Conducting thorough investigations for business deals to understand the background of the individuals involved.
Asset Searches: Used to find assets associated with an individual, often for legal purposes related to divorce settlements, judgments, or estate planning.
Skipping Tracing: Used by private investigators and bounty hunters to locate individuals who have 'skipped' town, often to evade legal action or responsibilities.
When using a people search service, it's crucial to do so with a consideration for privacy and ethics, and only within the bounds of the law. Misuse of these services can lead to legal consequences and violations of privacy.
People Search Service FAQs
How do you search for people?
You can search for people online using a simple Google search or you can employ the help of a people search service such as Spokeo or BeenVerified. These services typically have much more data than what you would find on Google alone.
How can you find someone free of charge?
A Google search is one way of searching for people for free. Another option is to try a free trial of a people search service, such as PeopleFinders or Intelius.
How can you find out if someone is married?
You can find out if someone has died with a people search service such as Intelius. Almost all people search services can tell you someone's current marital status since these services pull data from the public record.
How can you find out if someone has died?
You can find out if someone has died with a people search service such as Spokeo. Most people search services can tell you if someone has passed away and the date of their death since these services pull data from the public record.
How can you find out where someone works?
You can find out where someone works with a people search service, such as BeenVerified. Some people search services can show you the current employer or the employment history of someone.