Search websites have evolved from being sources of fulfilling human curiosity to practical tools to look up all kinds of information. Individuals, groups, and organizations spend thousands of dollars each year accessing this information.
BeenVerified is a leading people and phone number search platform. This New York-based company was formed in 2007 by Ross Cohen and Josh Levy.
It became one of the leading personal background check websites after expanding its features throughout different phases. Thanks to its unique features, it has improved the informational database available and the methods to access it, which we will discuss in this BeenVerified review.
What Kind of Information is Available at BeenVerified?
The main reason BeenVerified became so popular in such a short time is that it provides useful information from several sources, including some of the following:
Public Records
Criminal History Information
Property Records
Social Media Accounts, and More
Note that all this data is publicly available, but BeenVerified offers it all in one convenient and easy-to-access platform. Let's go into more detail about BeenVerified, its use cases, and its benefits.
Are you sure BeenVerified is right for you?
Try our favorite people search service instead.
Is BeenVerified Free to Use?
BeenVerified is a subscription-based search service that allows users to look up all kinds of information from a single platform. The platform's paid features are very generous and will surely help you collect verified information. You can search BeenVerified for free, but you will need a monthly subscription in order to access the data.
How Does It Work?
BeenVerified gathers information from multiple public sources and consolidated them into a single people search platform. The platform allows users to collect all necessary information with a single click, making info management much more accessible. This can help users save several hours they would otherwise spend searching for information.
Are you sure BeenVerified is right for you?
Try our favorite people search service instead.
BeenVerified Features
The following are the main features that users get with the BeenVerified platform.
People Search
The People Search option allows users to access heaps of public information. You need to add the person's first and last name and an approximate location or birth date (if available). Once BeenVerified completes its search, you may receive information about the following things:
Address History
Age
Month And Year Of Birth
Available Photos
Court Records
Criminal History Information
Current Address
Email Addresses
Names And Known Aliases
Phone Numbers
Possible Relatives
Sex Offender Information
Social Media Profiles
Tax Records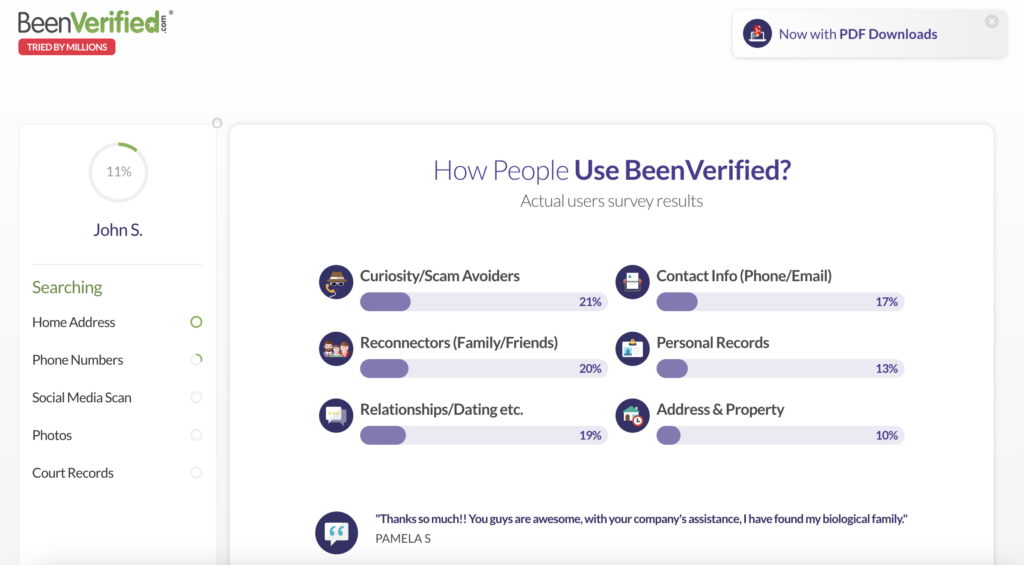 Reverse Phone Lookup
You can use BeenVerified's Reverse Phone Lookup option to check more information on previous calls, the callers, and consistent spam reports. It may also provide basic caller info, which can include the following:
Age
Business Name
Email Addresses
Location
Name
Social Media Accounts
Reverse Address Lookup
Getting information about any United States address is more straightforward with Been Verified's easy Reverse Address Lookup option. It is one of the best ways to get more info on recently settled neighbors and get a better perception of a particular neighborhood.
You can search for a particular address on BeenVerified's platform, and it will provide the related information. You can even gain information about residential or business addresses.
Username Search
The Username Search option is similar to the reverse address lookup mentioned earlier. This feature allows users to look up information about a particular social media user or find more information about the account owner. If you want to look someone up on social media account or check on a stalker troubling you online, it is an excellent option.
Are you sure BeenVerified is right for you?
Try our favorite people search service instead.
Unclaimed Money Search
Many U.S. citizens have unclaimed amounts in their names. These citizens do not know about the unclaimed amount or how to retrieve it. Following are some common examples of these financial benefits that you may have missed out on.
Overpaid utility bill
Lost savings bond
An unclaimed tax refund
Information about these unclaimed prizes can benefit owners to get some extra money.
BeenVerified Cost and Subscription Pricing Plans
BeenVerified memberships have two different pricing plans you can choose from. Each comes with 100 monthly searches and the only difference is the duration of the membership
1-Month Membership: $26.89 per month
3-Month Membership: $17.48 per month
As mentioned earlier, the two memberships have the same features, but customers save nearly 35% with the three-month membership option. Something important to note about the 3-Month Membership is that it is billed on a quarterly basis at $52.44 every 3 months. An explanation of monthly pricing can be found below:
| | | | |
| --- | --- | --- | --- |
| Membership | Charge Frequency | Charge Amount | Reports per Month |
| 1-Month Membership | Monthly | $26.89 | 100 |
| 3-Month Membership | Quarterly | $52.44 | 100 |
Charges from BeenVerified may appear on your bank statements or credit card statements as one of the following:
BVD BeenVerified com
BEENVERIFIEDCOM BVDBEENVERIFIE
BVD BEENVERIFIED.COM
BVDBEENVERIFIED.COM888 BEENVERIFIEDCO
BVD*
Does BeenVerified seem to expensive?
Try a lower cost people search service instead.
BeenVerified Free Trial Options and Coupon Codes
BeenVerified does offer a 7-day free trial for $1. The monthly subscription cost of $26.89 will be charged after the 7-day trial period is over, so be sure to cancel your subscription if you do not want to keep it.
BeenVerified Cancellation
To cancel BeenVerified, you will need to contact their customer support team by using one of the following methods:
Opt-Out of BeenVerified
For those who are looking to have their personal information removed from the BeenVerified database, you can opt-out here. You can also consider DeleteMe, which does all the work for you.
Final Take
BeenVerified has one of the best people search engines and one of the best reverse phone lookup features which makes it a great solution for everyone.
---
BeenVerified FAQs
What is BeenVerified?
BeenVerified is a people search engine that aggregates and compiles external data with public record data. This allows users to search for names, addresses, emails, phone numbers, and more.
What is BeenVerified used for?
BeenVerified is used to verify people, emails, and phone numbers. BeenVerified can also be used to find criminal records and other general information about people.
Is BeenVerified Legit?
Yes, BeenVerified is legit and has been operating since 2007.
How much does BeenVerified cost?
BeenVerified costs between $17.48 – $26.89 per month depending on the membership selected.
Is BeenVerified free?
No, BeenVerified is not free and requires a paid membership for full access to data. You can search for very basic information for free.
How do you cancel BeenVerified?
You can cancel BeenVerified by calling their customer service phone number at 1-866-885-6480 or by emailing them at support@beenverified.com.
How do you remove yourself from BeenVerified?
You can remove your personal information from BeenVerified by completing the opt-out form found at https://www.beenverified.com/app/optout/search.
Sources
Important Disclaimer: BeenVerified is not to be used for consumer credit, employment, insurance, tenant screening, or any other purpose that would require FCRA compliance. BeenVerified does not provide consumer reports and is not a consumer reporting agency.